Monday, October 25, 2004
A Day of Fun
We originally planned to go out of town with 6 other friends but they all belonged to the family of "drawings" (translation: cancellations) so 13 became 7. But nevertheless, we had a great day! Of course I didn't have any doubts! What would you expect from 5 smart & funny ladies getting together for a day! Hehehehe! Although we came home with new blisters and would probably limp thru the ER and wards all day tomorrow because my very good friend and her equally good boyfriend made us walk thru the whole picnic groove (i.e. up and down the hill then thru a hanging bridge), it was all worth it! The talk was non-stop syempre and we had a chance to do some bonding away from the medical world. So to those who did not come..... your loss! ;-)


Posted by nikki:: 10/25/2004 02:56:00 PM
|



---------------oOo---------------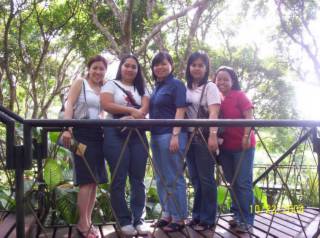 do u have doubts?


Posted by nikki:: 10/25/2004 12:02:00 AM
|



---------------oOo---------------
Monday, October 18, 2004
Growing up
I had car trouble the other night and as "car illiterate" as I am, I tried to find a solution to my problem but as expected I failed. So I had to call 3 people to help me out. One didn't want to help me at all - had lots of things to do. The other one was very helpful but also didn't know what was wrong. The third one was helpful (was able to fix it actually) but not after a few unprintable words.
Having gone through this, I realized two things: one, that having a car is a responsiblity that I should learn to handle and two, that I have no one to depend on besides myself. Yes, it was wrong of me to learn only how to drive a car but not how to maintain it but that could be easily remedied. But learning how to depend only on myself may take a while. Honestly, it is bad really that having reached adulthood, I am still quite dependent on a lot of people on a lot of things. Maybe that is one of the negatives of having a closely-knit family - you get used to always having someone there to help you out whenever you have problems so you don't get to be fully independent. But that would all have to change. Maybe I called on the wrong people or at the wrong time but still I think I owe it to myself to learn how to stand on my own.

Posted by nikki:: 10/18/2004 02:15:00 AM
|



---------------oOo---------------
Sunday, October 10, 2004
Kung Ako Na Lang Sana
"Heto ka na naman, kumakatok sa 'king pintuan, muling naghahanap ng makaka-usap. At heto naman ako, nakikinig sa mga kwento mong paulit-ulit lang, nagtitiis kahit nasasaktan."

As the famous song of a Filipina singer goes. It tells the story of a girl who has been friends with this guy for a long time. They have been friends for so long that the guy had become very comfortable with the girl so that everytime something goes wrong or everytime he breaks up with a gf and needs a shoulder to cry on, he goes to the girl. And a cycle develops... the guy not knowing that the girl is actually in love with him and has been for ages now. If only he would open his eyes and see what's right under his nose and love the girl instead, he will never cry again.

"Kung ako na lang sana ang iyong minahal, di ka na muling mag-iisa. Kung ako na lang sana ang iyong minahal, di ka na muling luluha pa. Di ka na mangangailangan pang humanap ng iba, kung ako na lang sana."

I find the song really sad. It just goes to show that there are times when guys and girls cannot really be in a platonic relationship. Otherwise, the relationship would just be as youngsters call "nokia - user friendly". It is so frustrating to see people in this kind of relationship. Good if the guy wakes up, but what if he doesn't? It makes me want to shout everytime I hear a friend excitedly tell me that her crush called her last night asking her for a favor or seeing her guy friend sitting beside her in the office typing something on the computer. Why is it that guys always say that we are using them when it is usually the other way around?

Let us, girls, be reminded then that there are times when we really can't be good friends with guys. When you find yourselves the shock absorber/savior/angel of your guy friends and when you can't seem to say no everytime they call you then you are in danger of being a host to a parasitic relationship. We should always keep a certain distance from them and never let yourself fall in love with them. Remember that lots of guys are blind to our plight, they just see what is there on the surface. They don't ponder on trivial things such as a girl friend once again saving them from missing an important phone call because of a dead cellphone battery or a girl friend losing sleep over their 1 am phone call just to ask for a medical certificate or a 2 am text messege updating you on their lives. All they think about is - you are THERE so you are useful. However, let us be reminded though that to every rule, there is always an exception (siguro bading siya!).

Sounds pathetic? Yes it may sound like it but it is a reality!


Posted by nikki:: 10/10/2004 08:48:00 AM
|



---------------oOo---------------
Friday, October 08, 2004
Conferences



Just spent the whole day sitting down and pretending to listen to these well known lecturers in a conference. I can't decide if it's because I just came from my 24 hour duty or because my crush is just a few tables away from me or whether I was just too excited to receive a text messege from my favorite consultant (asking for a favor :-( , kala ko to tell me he wants to sit with us. hmp!). If I was just honest to myself though, it would be because I really wasn't interested in what they were saying. I think this is a bad thing - why bother attending then? Looking around, I guess the problem is not only mine. A lot of people only come here because they get lots of giveaways (as evidenced by the lady infront of me trying to fit her loot in just one paper bag). Still for some, a free meal is always welcome. For others, the promise of a raffle prize at the end of the day is a big motivation for staying till the very end. For me - it is a chance to get out of the grueling world of our hospital for 2 whole days and a chance to see my crush (who keeps flirting with his seatmate. Grr!).



Posted by nikki:: 10/08/2004 12:50:00 PM
|



---------------oOo---------------
Monday, October 04, 2004
PS, I Love You



I just finished reading this beautiful, beautiful book that I almost didn't buy at the bookstore yesterday because this is not the book I was looking for. And yes, you guessed it right, it's called... PS, I Love You by a very young but terrific writer, Cecelia Ahern (who by the way is the daughter of Ireland's prime minister- it said so in the back cover). The writer had me in tears by the time I was reading chapter 2 and by chapter 5, my eyes were swollen. Friends could attest that I cry easily while infront of the tv or while watching a movie or reading a book but never have I read a book or watched a movie that made me cry up to the end. It is a story of true love and how it never dies no matter what happens. It is also a story of courage and of encouragement; that life has to go on even if at times you feel like letting go is easier.

I envy the 2 leading characters in the book... Holly and her husband Gerry (who died of a brain tumor) for having found his/her best friend, soulmate and true love in each other. I envy Holly for having such a great support network - her family and friends, who not even once in the entire book let her down. I envy Gerry, for having the foresight and strength to carry on with the list even though I'm sure at times just waking up was a very big effort.

I wonder if such love still exists in this time when people put too much emphasis on what is superficial. I wonder if there are still Gerrys out there who would think of making a list so as to help their wives survive the grief of living without them. I wonder if there are still people out there caring enough to check on their daughter/sister/friend once in a while even though they are busy going thru their own lives.

A good friend told me once that "getting married is the greatest mistake you can ever make in your life". Maybe for some. But for me, that isn't true if you choose well and believe in your heart that in this world, true love can still exist.... if only we can look past beyond what we see with our eyes.



Posted by nikki:: 10/04/2004 05:25:00 AM
|



---------------oOo---------------
Sunday, October 03, 2004
Food for Thought 1



"Nothing others do is because of you. What others say and do is a projection of their own reality, their own dream. When you are immune to the opinions and actions of others, you won't be the victim of needless suffering..." -Don Miguel Ruiz, The Four Agreements


Life isn't about you all the time. If someone says something to you, it is a product of their perception of their own reality. It is not about you, but about them. Many times we hear people say and do negative things against us, this shouldn't pull you down, because it is really about them and how they perceive other people. We should not get trapped in their realities by taking what they say or do personally.

- KC Concepcion, Phil. Daily Inquirer 2004


Another wise doctor told me, "Nobody can hurt you as much as they can if you will not let them". Coupled with the text above from Don Miguel Ruiz, these will be my new motto in life from now on. So let us hold our heads up high and continue battling w/ life! God bless!



Posted by nikki:: 10/03/2004 12:30:00 PM
|



---------------oOo---------------
Friday, October 01, 2004
Love ur enemies...



i think this is really ironic... how can u love someone who made u angry? how can u love someone whom u considered a respected friend and then later on betrayed u? i know it is the most Christian thing to do. maybe in time one can learn to do this but while the wound is still fresh & while the pain is still there, i dont think it is possible. maybe in time...



Posted by nikki:: 10/01/2004 11:57:00 AM
|



---------------oOo---------------